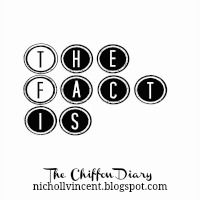 Hi y'all!
Thought I'd share what's currently going down in our hood with
The Fact Is
with
Nicholl
.
Fact:
I got my purple cast off last Thursday. Praise the Lord.
Fact:
After I got it off I used a whole bottle of alcohol trying to clean my leg/foot area.
Fact:
It made be want to drink a whole bottle of alcohol to erase the memory.
Fact:
I'm now in a boot.
Fact:
Done with nasty foot talk.
Fact:
The hubs and I booked our honeymoon/anniversary trip. For those new followers we got married in June 2011 but we had a lot going on. Bought a house, hubs in a new unit, pre-deployment training. We would have celebrated in June but he was deployed. So finally we are taking it.
Fact:
We are going on a cruise.
Fact:
I have so much school work to do since it is mid-terms week.
Fact:
I'd rather be doing anything but homework.
Fact:
The 5k I signed up for was this weekend and I went up to the race just to get my tshirt.
Hope you all have a great week!