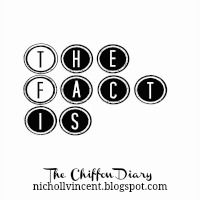 This week I'm guest hosting with Nicholl from The Chiffon Diary for The Fact Is..
The Fact Is..
I have all my blog posts picked out for the week & that never happens.
I have bruises under my arms and I refuse to shave. Damn crutches. Judge me now.
I have eaten a chocolate bar everyday for the past three days.. And I don't even like chocolate.
I can't wait until the day of the husbands birthday party. It's going to be amazing.
We just got started going back to church and I can't wait to wake up and go to church each Sunday!
I have a whole outfit planned for Election Day in NOVEMBER.
I want to start having a fashion segment on the blog once a week but can't decide if I should..
Hope y'all have a great day!