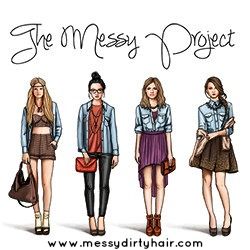 I've had quite a love affair with Kelly's
The Messy Project
& knew I had to participate.
I signed up so long ago & so glad I finally have the chance to join all the fun.
If your not familiar with the rules here's the deal:
1 item
5 girls
5 different looks
1 major blog post day
Pretty simple right?
Well when Kelly contacted me about the sizing for our "item," you see it's all a surprise.
I gave her my usual medium, etc, etc.
What I didn't know was that I was pregnant...
I haven't gained any weight, yet..
But the way my clothing fits has changed drastically.
When I first tried on my dress, I flipped out saying, "Oh hell no!"
This mama-to-be was not having her girls all hanging out.
So I did what any wannabe fashionista would do...
I made it work for slightly hormonal big breasted mama.
From doing this project I learned that you can make anything with fashion work.
As long as you are confident with your outfit you are going to make a statement.
It was so fun & would love to participate in
The Messy Project
again!
I think I did pretty good! What do you think?
Be sure to check out the other beautiful ladies that participated in this fun project!
Amy @
Trials & Triumphs of my Loving Sailor
Dinah @
Sunshine Super Glam
Kelly @
MessyDirtyHair