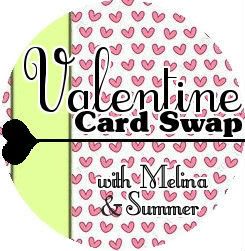 I paired up with the lovely Jax from Raviolis & Waterworks to do a cute Valentine's Day Card Swap! My girl Summer & Melina put together a swap for us for the day of love. Super perfect! The rules included making a homemade card

and sending it out by February 8th.
Jax did a wonderful job. I opened a huge package to reveal an over-sized card & a chocolate rose!
Inside was a sweet little message!
Bet you all wished you participate now don't cha? Well, I'm hosting a swap RIGHT NOW so be sure you all link up and participate. Everyone will receive amazing gifts!:)